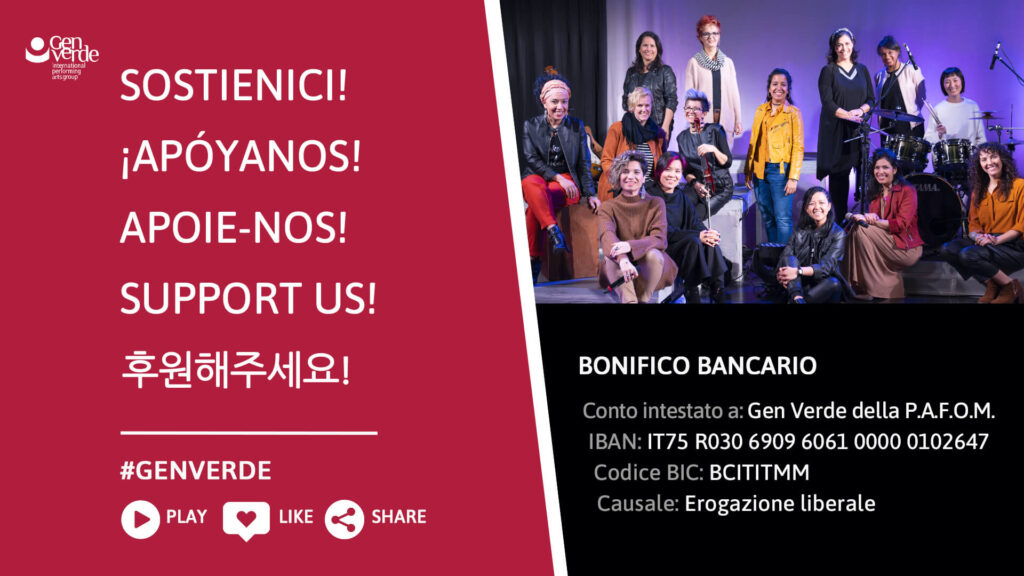 It has been more than a year since COVID-19 forced us to suspend our tours, thus depriving us of one of our main sources of income.
We would like to thank everyone who has supported us with donations. Every contribution, however small, was and still is very much appreciated.
Also, maybe not everyone knows that every time you have liked our posts, played one of our songs or shared one of our videos, you have also supported us!
That's why we launch the initiative #Gen Verde, Play▶ Like❤ Share?
▶Play our songs and watch our videos!
❤Like our posts, songs and videos!
? Share our content with your friends and family!
If you would like to give us a hand by making a donation –
SUPPORT US
Thanks to your contributions, we will be able to continue:
• offering moments of dialogue open to all (short live concerts on streaming, moments of sharing etc.)
• promoting educational projects with both young people and adults
• working on new songs and productions
To donate:
BY BANK TRANSFER
Account name: Gen Verde della P.A.F.O.M.
IBAN: IT75 R030 6909 6061 0000 0102647
BIC Code: BCITITMM