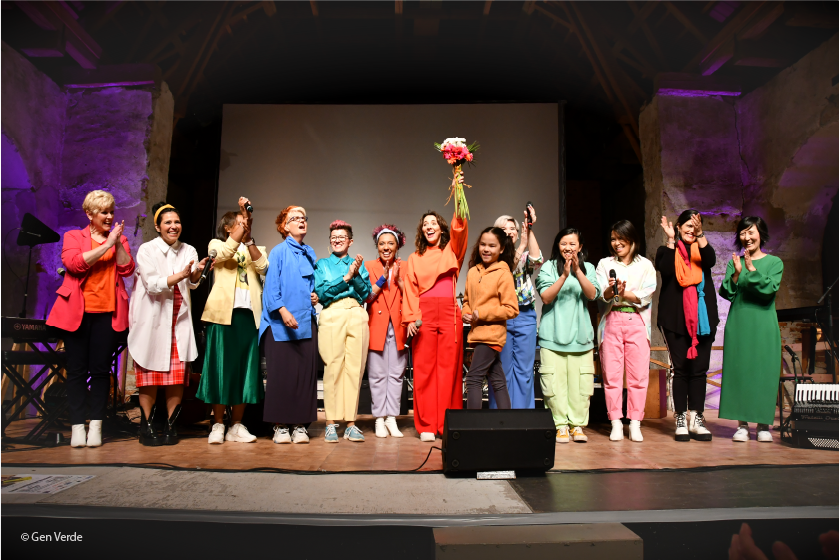 Here is the second part of our tour of Europe! To read the first part of our 'travelogue', which includes what happened in Poland, Romania and Hungary, click here! And here you'll find out how things went in Slovakia and Austria.
Bratislava, Slovakia
It is difficult to say in a few words what we experienced in this city. On arrival we were able to get to know the capital a little bit and then prepare for our acoustic concert in the House of Culture 'Dom Kultúry Zrkadlový Háj'. The audience was very enthusiastic and we were surprised to see so many of the young Slovaks and Ukrainians we had met last year in Prešov, Slovakia, in the front rows.
In fact, it is thanks to these young people that we came back here, because after the Start Now Workshop Project in 2022, they wanted us to get together again to relive new experiences! And then there were also other young people, from Slovakia and Ukraine, with whom we experienced a full day of artistic workshops.
The workshop day ended in the gymnasium of the school where we worked. Families and many people from the country's Focolare Movement community came to see the work we did together. The young people did really well, managing to achieve great results in just one day's work. However, as always, the most beautiful thing is what is built together.
On the last day we gathered in the gymnasium to have a 'Q&A' (questions and answers) moment with the young participants. A very strong moment for everyone was when the former Minister of Justice met with them to talk about his vocation and experience. Then they asked us some very deep questions about vocation, cultural diversity, loneliness, abandonment where we were also able to donate some of our personal experiences. Seeing these young people in front of us listening with such attention, eager for answers was like living a sacred moment together with them,
On the way home, we were moved by a video that arrived to us on Instragram: it was the Ukrainian young people singing 'We Choose Peace' at the top of their voices inside the bus that was taking them home, where the war is still going on.
The feedback of the young people was very deep for us, for example a girl who told us: "Thank you for coming, for sharing your experiences, for making our lives better, for being a light in the dark, for giving us hope, but most of all thank you for making me feel like I am someone worthy and special. I was happy, like really happy, and for that I am truly grateful to you".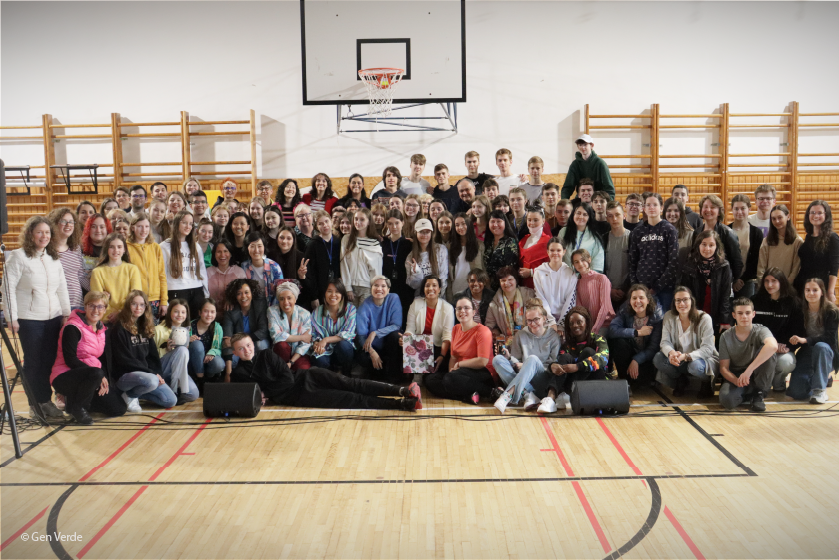 Wilhering, Austria
After a few days, we headed to the last stop of the tour in Wilhering, in the district of Linz (Upper Austria). We were invited by Ft. Heinz Purrer, Diocesan Director of the Linz Missio Association, to be part of the 'Jugend- und Missionsfest' ('Youth and Mission Festival').
This was the first festival after a few years' standstill due to the pandemic. It's a day for young people from all over Austria to participate in various activities and workshops, including our artistic workshops. On Friday 19 and Saturday 20 May we performed our 'Gen Verde Acoustic' concert in a former barn converted into an atmospheric performance hall with more than 1300 people in the audience!
Once again, we felt at home and representatives of Missio and the other participants, like Father Joe Unterberger, a Franciscan friar who cares for orphans in Myanmar. In Fr. Joe we found a new brother who we hold in our hearts. In fact, we feel that new bonds are being forged, existing friendships are being strengthened and experiences are multiplying… so much so that we have the impression that we will return here soon. Who knows?
We are certain that after these days we return home differently, with new energy and determination. The truth is that finding and experiencing these moments together with young people and communities is one of the things that gives us the most energy to keep going.
Keep following our tours on our website: www.genverde.it/tour